It is not easy to carry on with your daily activities in the scorching summer heat. In order to ensure that you and your family do not have to face any trouble, remember to get your air conditioner repaired from time to time. If you are planning to purchase a new air conditioner, put an end to your worries for the installation of the same.
One Stop Solution Offered by AC Repair Miami Beach
Beat the heat with an efficient air conditioner for your home and office. The hot summer months in Florida make it essential to have an AC installed in the home. Ensure that your air conditioner is installed in the most appropriate manner with highly experienced technicians. The technicians are well aware about all the aspects of the air conditioner and will help in the quick and efficient installation. Regular service and maintenance of the AC ensures an increased output in terms of cooling and lower consumption of power. The installation and general services will be available at an affordable rate to you.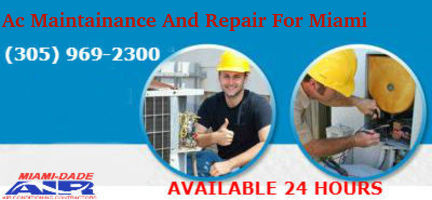 Regular AC maintenance services are available, which consume less time and increase the performance as well as the lifespan of your air conditioner. You need not wait for the air conditioner to malfunction; instead book a preventive maintenance and service to ensure there is no chance of malfunction in the future. With timely service and regular replacement of parts, you can increase the efficiency and performance of the unit.
AC repair Miami Beach is an expert in the provision of installation and general maintenance services to the clients. It has carved a niche for itself in terms of quick services and customer satisfaction. The technicians are experienced and have thorough knowledge about the parts and different aspects of the unit. You no longer need to wait for the technician to arrive and solve your problems; they will be on their way immediately after receiving your call. The quick and hassle free service not only puts an end to your troubles but also ensures that you do not have to worry about the functioning and performance of the AC in the near future.
AC maintenance service ensures that there is no malfunction of the unit and it remains highly durable. The technicians at AC repair Miami Beach are well aware of the different aspects of the air conditioner and will explain everything to you in detail before they begin working on it. The team of experts has knowledge about different brands and different parts of the unit. All the services are available to you in the shortest time and at an economical rate.